Live Performance 360
the intersection of live performance and immersive technology
LivePerformance360 is Boca del Lupo's presentation series curated by Sherry J Yoon, Artistic Director.
LP360 2023 begins with The Performance Corporation's Emperor 101 from April 20 to 23. This ground-breaking production is at the cutting edge of an emerging crossover between theatre and Virtual Reality. More LP360 presentations will be announced soon!
LivePerformance360 also has an industry facing initiative that includes archiving performance for touring companies, interested presenters and invested academics.
Finally, LivePerformance360 contemplates the use of immersive technology as a tool for accessibility aimed at audiences in isolated communities and individuals with mobility issues that prevent them from attending a performance in person.
In addition to the online digital experience of LivePerformance360, we've set up the Fishbowl as an education and demonstration centre on Granville Island.
LP360 was launched in February 2022 with Swimming Home, an immersive auto-teatro piece by Silvia Mercuriali where audience participated from their own bathrooms, followed by a double bill of The Magic Hour 360 produced by Electric Company Theatre and The Only Animal and Pochsy at the Airport Hotel created by Karen Hines. The third iteration was VR Salon, two suites of works from creators from all over the globe curated to stimulate the audience's imagination of what is possible in VR. The final presentation of the inaugural series was Underwater Archeologist, imagined and created by Sherry J Yoon and Jay Dodge, presented by Vancouver International Children's Festival.
Curators
Sherry J. Yoon, Artistic Director of Boca del Lupo, is a theatre creator and director with a passion for creating new performances through collaborative pursuits. With Boca del Lupo, Sherry has co-created more than 35 productions, including: Fall Away Home, an intergenerational site-specific production in the forest of Stanley Park; Photog, a large-scale show that toured across Canada and was created with interviews from prominent conflict photographers; and You Are It, as part of the Silver commissions from the Arts Club Theatre that investigates the complex dynamics between female friendships. During Sherry's tenure, the company has received numerous awards, including the Rio Tinto Alcan Performing Arts Award, and Jessie Awards for Outstanding Production, Design, Actor, Ensemble, as well as the Critic's Choice Innovation Award. Her productions have toured festivals and venues across Canada, Europe and Mexico. She co-created an online exhibition of Expedition, an iterative collaboration between Boca del Lupo and the Performance Corporation, and working on Net Zero, an interactive theatre installation about climate change that involves the audience charging a battery with a stationary bicycle. She is also a freelance director who has worked at the Richmond Gateway Theatre, Bard on the Beach, the Vancouver International Children's Festival and at the National Arts Centre in Ottawa Canada.
Sherry J Yoon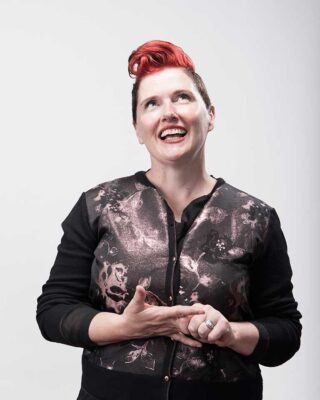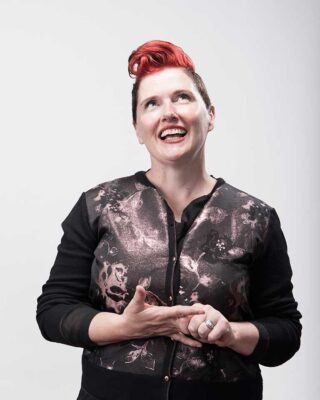 Jo Mangan is Artistic Director of The Performance Corporation in Ireland which focuses on the creation of Theatre, Opera, and Virtual Reality work. Her most recent directing work for the company was a Live/Virtual Reality piece called Emperor 101, presented as part of Dublin Theatre Festival 2021, and The Dead – an Opera at Dublin's Gaiety Theatre and screened at Kilkenny Arts Festival. She also founded the company's SPACE Programme – Ireland's longest running multi-disciplinary international artists residency with a current focus on Arts and Immersive Technology.
As the recent Director/CEO of Carlow Arts Festival she developed a focus on Digital work including creating a Virtual Festival Campus in Altspace as well as creating the film 72 Hour Lost Weekend and live performance for Woman in the Machine project at the former Braun Factory. Other recent directing work includes 5 films for Irish National Opera's 20 Shots of Opera, 14 Voices from the Bloody Field for the Abbey (National Theatre) and Out of the Ordinary – a Virtual Reality Community Opera work for Irish National Opera which won the prestigious European Fedora Digital Prize.
Other recent work includes Curator for the Prague Quadrennial Design Exhibition 2019 for Ireland through Virtual Reality, Digital Consultant for the Arts Council programme Brightening Air, and she was also international programmer for Limerick National City of Culture. She created the BIG House Festival (ERIC for Best Irish Festival) and was Artistic Director of the Bram Stoker Festival (Eric for Best Irish Festival) in 2014. She has served on many boards, including as Chair of the National Campaign for the Arts until recently.Awards include multiple Irish Times Irish Theatre Awards, the UK based Clore Leadership Fellowship and most recently the prestigious Fedora Digital Prize for her Irish National Opera project Out of the Ordinary.
Collaborations with Boca del Lupo in the past have included The Table and Symposium as part of the long form Expedition project in Vancouver, and at Dublin Theatre Festival.
Jo Mangan
LivePerformance360 2022